"What is the best WordPress theme for a membership site?"
or
"How can I add a membership option to my WordPress theme?"
You'll get the answer of this frequently asked questions below.
Wondering how to run a successful online business? Want the flexibility to work from your laptop and earn some passive income at the same time? You've come to the right place. A paid membership subscription service web site is one of the best ways to start an online business, but you must probably already know that since you end up here.
A membership website is designed to help you create memberships and then give these members access to exclusive content.
What is a paid membership WordPress theme website?
A membership website platform for WordPress is a gated part of your online business where only members who subscribe can access the content you've placed behind the gates. A "gate" is simply a barrier you build into your website. Once you've got that barrier in place, members can log in and access exclusive content, special offers, and even be part of a community of other members. They can also interact directly with you. Your membership WordPress theme website can be paid or free or a mix of both.
When we talk about "content," we mean digital products like web templates, WordPress themes, mock-ups, fonts, stock photos, graphics, ebooks, webinars, online courses, and podcasts rather than physical goods that require shipping. That's not to say that if your business offers physical goods you can't expand to the digital products side.
For example, if you're a photographer and you own your own studio and camera store, you could offer digital products like webinars on how to shoot at night or sell your photos in ebooks. There's your content!
The best paid-membership website provides the possibility for members to get unlimited downloads.
We have built this Paid Membership WordPress Theme for your website. You only need to work on your content now. It has an awesome visual page builder Zion Builder for you to easily change the page content and design as you want. The theme comes with thousands of features but don't let this scare you because we have also lots of video tutorials to guide you step by step.
You don't need any coding skills, everything is just drag and drop. You can also choose from over 65+ pre-built Industries websites included, which you can install with just a press of a button at any time.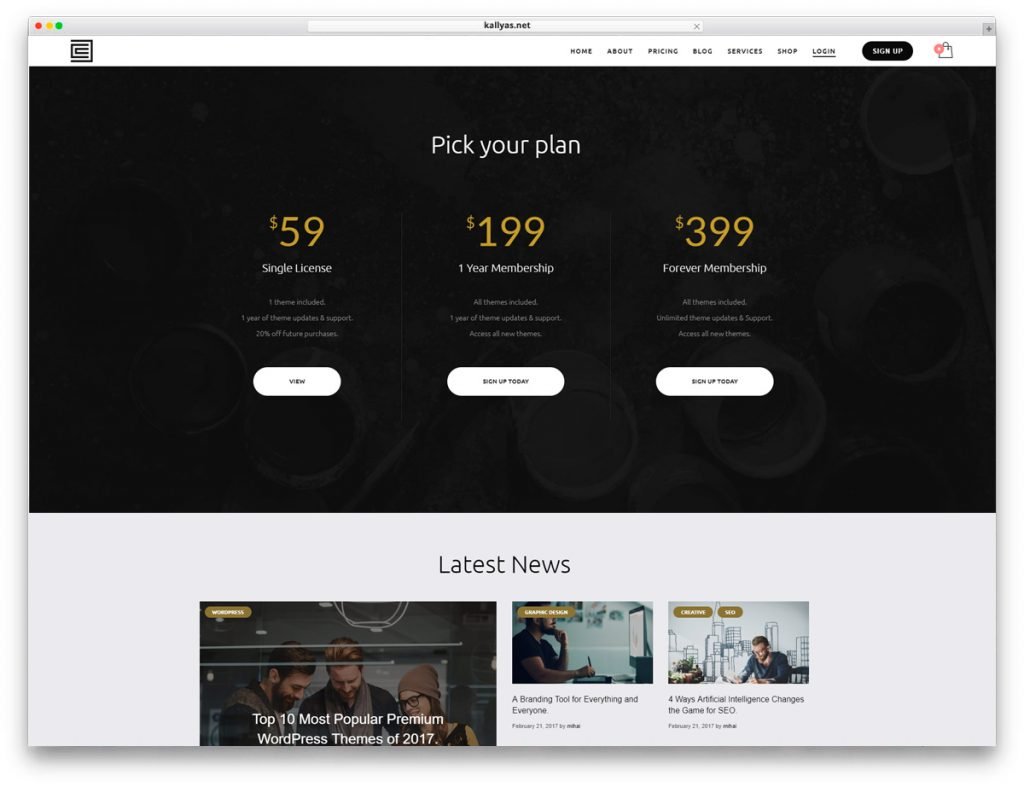 With unlimited downloads of all of your items, members' projects will be flawless in a blink.
Got a pretty good idea of how to start a membership WordPress theme business website now? What else would you like to know? If you're already a successful membership website owner, please share a few tips with our readers!
If you do decide to purchase Kallyas Membership WordPress theme for your membership site, you'll not only get access to a professional 65+ pre-made websites and a useful feature list but also a professional support team ready to help into any difficulties. Kallyas is the membership WordPress theme to consider.
Build your website with style!
Get access to this awesome drag & drop visual website builder, pre-made websites, thousands of features, video tutorials, premium support and many more.