Are you looking to make a website for free? Starting a website can be a terrifying thought specially when you're not techy. Don't worry, you're not alone. Having helped over 100,000+ people to make a website with WordPress. So, we have decided to create the most comprehensive and easy to understand step by step guide on how to make a free website without learning how to code.
This guide is useful for users of all ages and skill levels. However, if you need help, then you can contact our expert team to help you set up your website for free.
5 essential steps to make a website for free
Web Hosting
Domain Registration
Content Management System
WordPress Theme
WordPress Plugins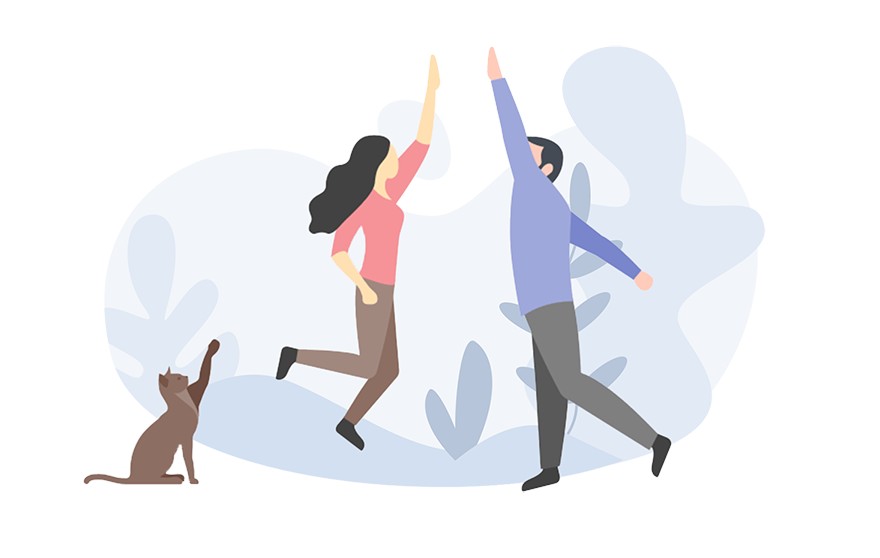 1. Free Web Hosting
Hosting is the first thing we need for launching our website. It's a computer that's on 24h/day and 7days/week that holds all of your website information. In short, hosting is the place where your website's files will be stored.
Web hosts are companies that provide space on a server they own for use by their clients. Freehosting, for example, is a free hosting service and valid for the entire lifetime of your domain.
Free hosting package is perfectly suitable for lightweight websites like Wordpress blog, personal websites, small businesses, and presentation websites.
There is no free trial period with Freehosting and has great features included.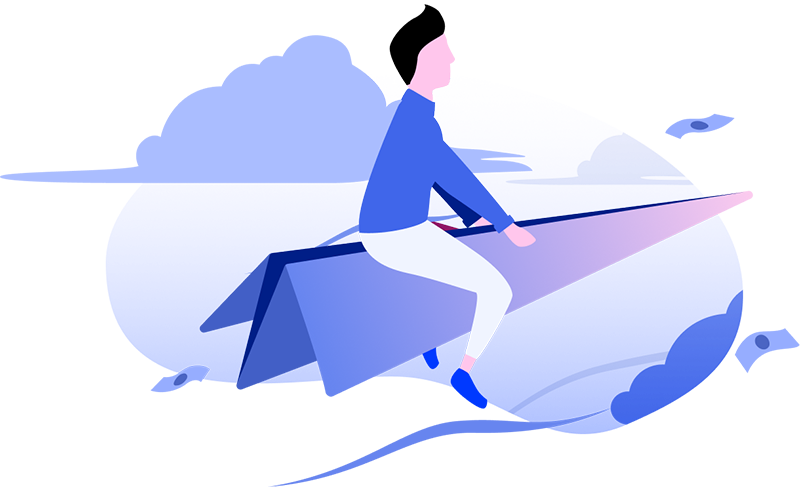 Hosting for your own domain name
10 GB storage
Unmetered bandwidth
1 hosted website
1 MySQL database
1 e-mail account
Once you have registered your account, the free hosting platform will look like the screenshot below.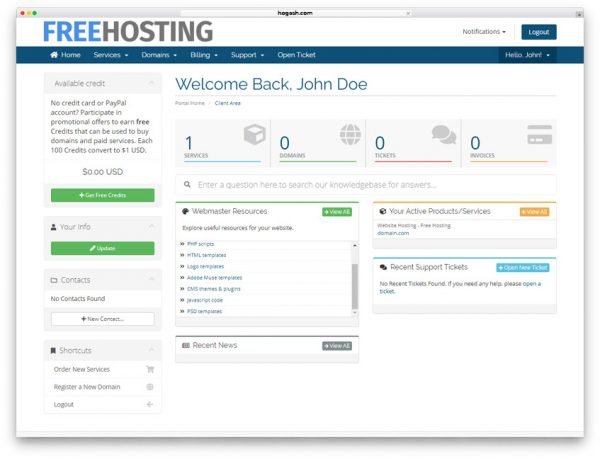 2. Domain Registration
The domain is the name of your website. It is a unique identifier that consists of letters and numbers. Usually, the domains are chosen that corresponds to their business names. The maximum period of registration for a domain name is 10 years.
Domain name must be registered before it can be used. As of 2010, the retail cost generally ranges from a low of about $7.50 per year to about $35 per year for a simple domain registration.
Now you can find the perfect domain name as low as $0.99 from GoDaddy the world's most popular registrar. Although registrars often drop the price far lower – sometimes even free.
After you've registered your domain, now it's time to update nameservers point to FreeHosting.com.
Nameservers are a fundamental part of the Domain Name System (DNS). They allow using domains instead of IP addresses. It is like contacting someone by phone. Before calling, you look up his name in the address book, not to the number each time.
When you get a domain, the following nameservers are provided by default, example:
dns1.registrar-servers.com
dns2.registrar-servers.com
It depends on where you have hosting services. Your nameservers should look like the following because in our case they belong to FreeHosting:
NS1.FREEHOSTING.COM
NS2.FREEHOSTING.COM
After the nameservers were changed, you can expect a propagation time up to 10-24 hours.
3. Free Content Management System WordPress
WordPress is definitely the world's most popular CMS and the way to create a free website. After its launch in 2003, the free and open-source platform has quickly grown to power more than 75 million websites.
WordPress without any doubts is among the best website builders for beginners and professionals
Priceless, and also free CMS you can download WordPress and use it on your site. Making a website has never been so easy. It's used by people like Sony, UPS, eBay, Forbes, etc.
After you downloaded WordPress, you need to upload the zip archive to your host through FTP or cPanel and extract it to the public_html folder. The public_html directory is the folder to place in web-readable files.
In the meanwhile, you need to create a MySQL database and user for WordPress. It's very simple if your web host provides you with cPanel and Freehosting.com does.
Log in to your cPanel account and click on MySQL Databases.
Type a name for the new database and then click Create Database. After that, you will need to create a user that will be assigned to the database.
Then, the last step before installing WordPress is to define user privileges "ALL PRIVILEGES" when you assign it to the database. Privileges determine how a user is able to interact with the database.
Save all the information user, password, database name into a safe place. You will need them when installing WordPress.
To install WordPress enter the site's web address in the web browser, and WordPress will prompt you to fill out saved details, including user, database name, user password.
Installing WordPress is a very simple process and takes less than five minutes to complete.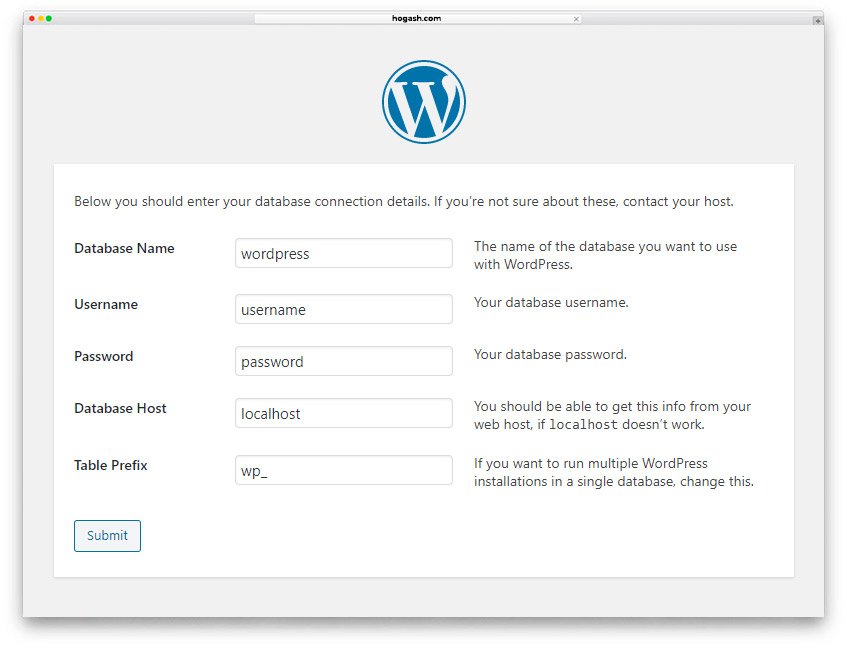 The final step in the installation process of WordPress is to name your site, your desired user name, password. That's it after that you can log in to your new website.
4. Free WordPress theme
In WordPress, a theme is a template or collection of templates and stylesheets used to display of a WordPress powered website. WordPress comes with some basic free themes, just to name a few of them Twenty Twenty, Twenty Nineteen, Twenty Seventeen. Some WordPress premium themes provide support, niche demos, page builders, SEO infrastructure, Woocommerce integration for eCommerce, header and footer builders and a lot of more features.
You can install and create an amazing website with our free WordPress theme!
MedLife is a modern free WordPress theme developed by Hogash for medical, dental, health, clinic medicine websites. This theme includes many features designed especially for medical-related websites. Therefore, can be used for any other niches. Download and use it in your project for free!
5. Free WordPress Plugins
Plugins add functionality and features to your website. For more custom functionalities, you need to install plugins. We recommend some of the most popular free plugins in the world.
Above all, to raise your website standard you should take into consideration the following five free WordPress plugins developed with love and quality.
Customize your website design with free drag & drop Zion Builder plugin
The new drag & drop page builder Zion Builder plugin will be released very soon, so stay tuned! Benefiting from all the features of an autonomous plugin, you will be the sole Creator of your website by managing the overall settings, templates, layouts and presets.
Security for your website with WordFence free plugin
When it comes to security, Wordfence is the most popular firewall & security scanner available for WordPress, that includes an endpoint firewall and malware scanner.
Optimize the speed of your website for free with WP Super Cache plugin
When it comes to page speed and loading times, an improvement it is always a good choice. Wp Super Cache free WordPress plugin has 2+ million active installs and 4.5 stars rating.
Improve your website SEO with free Yoast plugin
This free WordPress SEO plugin helps with your search engine optimization. Yoast SEO has helped 5+ millions of websites worldwide to rank higher in search engines.
Back-up and migrate your website with free All-in-One WP Migration plugin

This plugin exports your WordPress website including the database, media files, plugins and themes for free with no technical knowledge required. Has 2+ million active installations with 4.5 stars rating. Import or export your website content with a single click.
Conclusion
Have a free website for as long as you need!
In conclusion, an online presence is a necessity for businesses nowadays, but many businesses don't have the budget or team to develop a website. A free website solution can help you build your website, thanks to a variety of tools that make it easy to use and manage.
Enjoy your free website!

Connect with us on social media.
Build your website with style!
Get access to this awesome drag & drop visual website builder, pre-made websites, thousands of features, video tutorials, premium support and many more.