The most frequently asked questions "What are the best WordPress themes for doctors?" or "What is the best medical WordPress theme over the Internet? ". Oh then, here is the most popular website theme for medical services from Envato market.
Whether you are a medical, personal doctor, practitioner, health industry web designer, or you have a medical website project, we have the best Health & Medical WordPress theme that you can use to set up your client's website in a few hours.
Medical clinic websites require high standards for both form and functionality. The choice of the design should be careful to achieve a premium presentation of the medical practice.
Kallyas Health & Medical WordPress Theme is a responsive multipurpose WordPress theme flexible and easy to adapt to any topic. It is one of the top 10 bestselling WordPress themes of all time with over 40.000 sales.
It is a Bootstrap based Hogash creation
With an amazing visual page builder at its core. It comes with +65 already designed websites by Hogash experts, including two specialized in medical & dental subjects, which you can install Health & Medical WordPress Theme with only one click.
Kallyas Health & Medical WordPress Theme
Goes for a professional clientele, but includes also personal topics, blog demos, eCommerce shops, photography portfolios, gallery pages, pharmacy, personal doctor, clinic or dentist websites and shops, even Membership websites, you can check all demos here.
Health & Medical WordPress Theme uses a clear and simplified visual front-end page builder with over 130 elements to choose from to build anything you like using the wysiwyg page builder, meaning that you can design only by drag and dropping elements into the page. Get unlimited layouts for blog and portfolios as well as colors to arrange.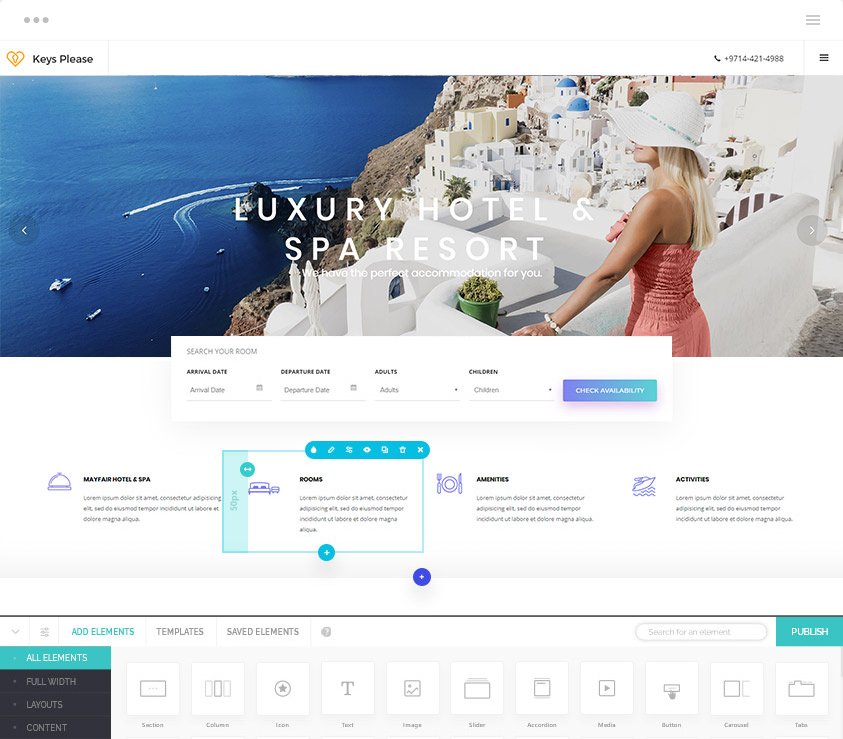 1. Health & Medical WordPress Theme – Homepage
This Health & Medical WordPress theme has a customizable layout with incredible sliders selections to use for a personal doctor website. If you are also a health service provider or any medical institution owner, you can easily create a beautiful website.
A great website deserves a great Health & Medical WordPress theme.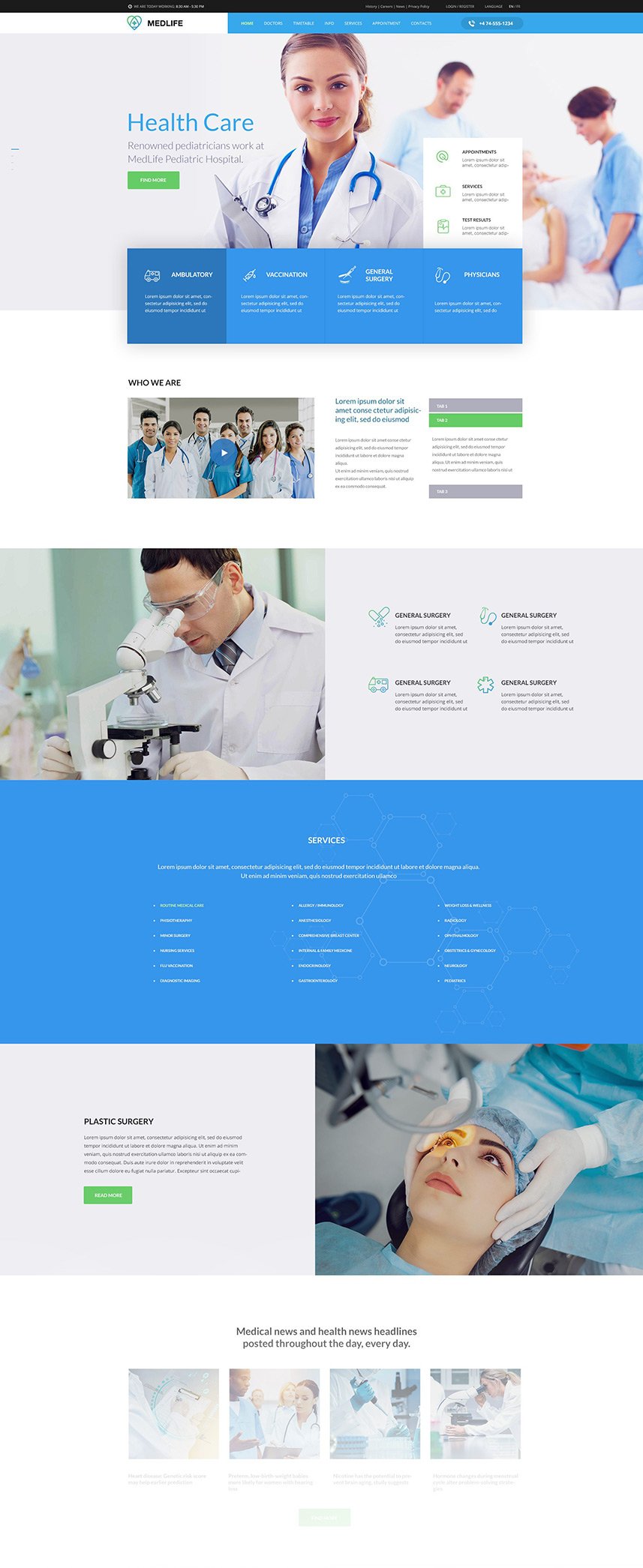 Portfolio layouts can be used to show listing in many formats including carrousel.
Pricing tables are also included! Animated posts, headers, and sliders are available within the layout. You can make community forums or chat rooms with BuddyPress or bbPress.
Health & Medical WordPress Theme is all screens adaptable and thus mobile-friendly. It can create and upload icons from fonts-icons generators like Fontello. Build fast pages thanks to its SEO optimization and cache/auto-optimization plugins.
2. Appointment system & timetable
Appointment scheduling allows clients to book, reschedule, and cancel appointments through a web interface. When clients want to make an appointment, they go to your healthcare website.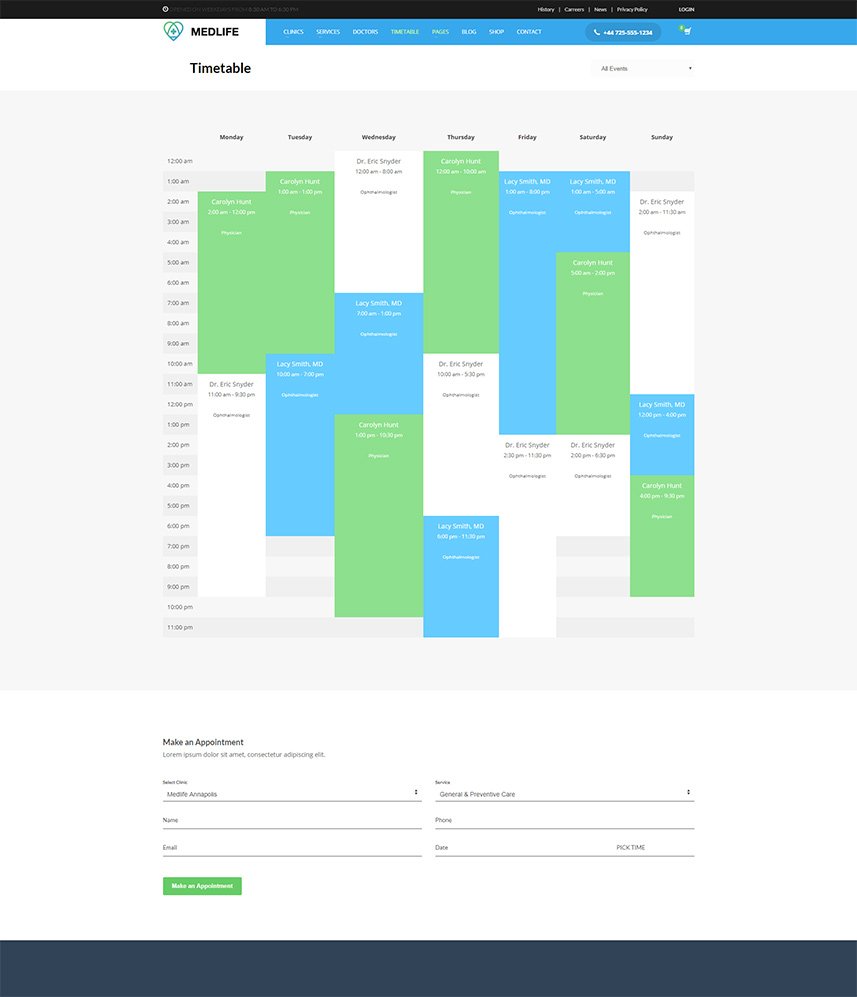 Health & Medical WordPress theme comes with a timetabling tool. If you are looking for a WordPress theme with the best appointment or a timetable with good department management; this is the theme that you should seriously consider for your project.
3. Medical products – eCommerce
Thinking of selling medical equipment online? We've got you covered!
Kallyas Health & Medical WordPress Theme uses WooCommerce integration to manage any business-related aspect. Your customers will enjoy features like the many payment gateways, and easy online shopping experience.
Grab the most popular WordPress theme from the market today, and it is used by thousands of medical professionals, personal doctors, consultants, and healthcare providers around the world.
4. Doctors & medical personnel page layout
Health & Medical WordPress Theme comes packed with layouts carefully crafted for personal doctors, pharmacy, surgeons, medical personnel hospital, health clinics and medicine websites.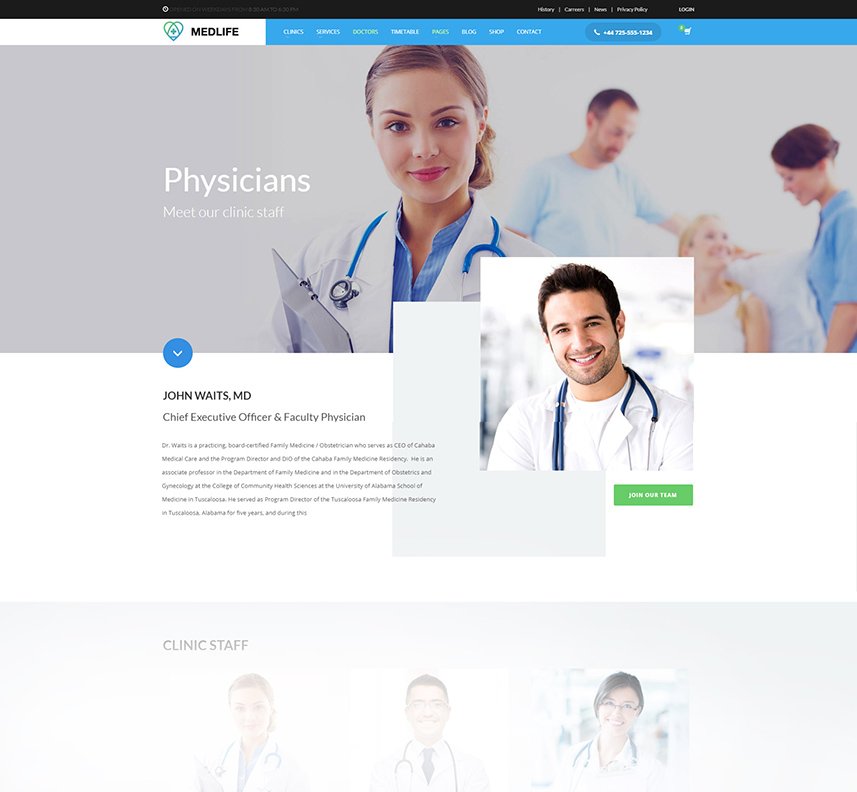 5. Medical services page layout
The most important step in services presentation is to help visitors to understand exactly what you offer. These page layouts include services, appointments, schedules, contact, blogs, and departments.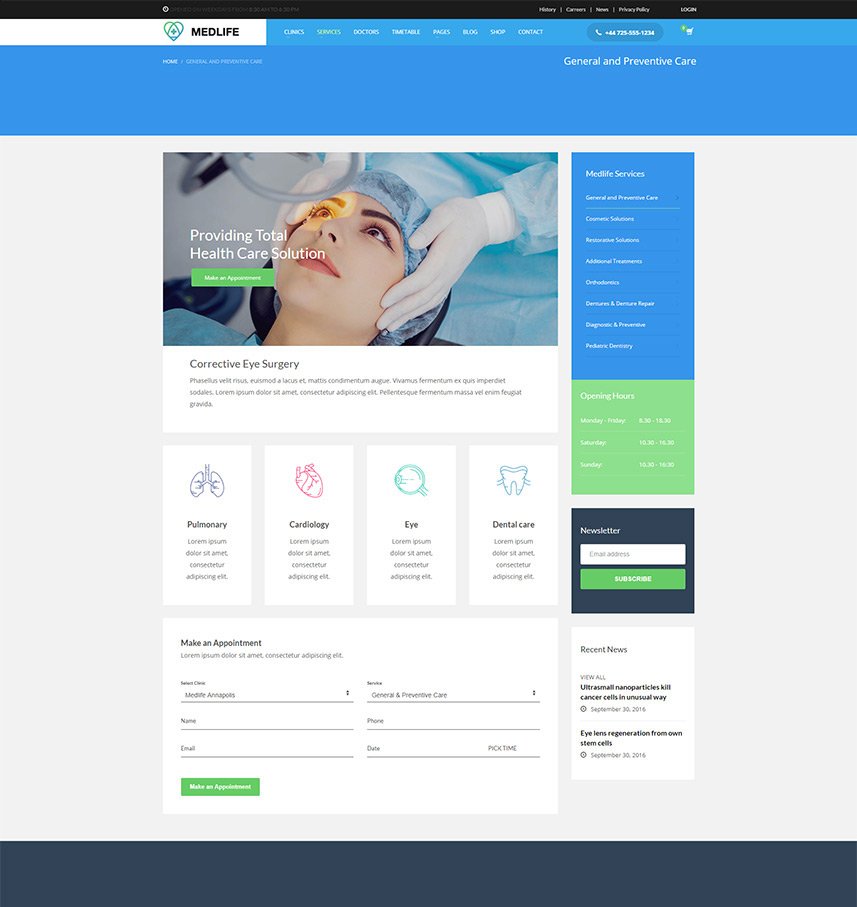 6. Contact page layout
Contact is one of the most important features of a website. So, we made two styles for Health & Medical Theme and with the appointment system included.
The first style has the sub-header visible, with breadcrumb and page title.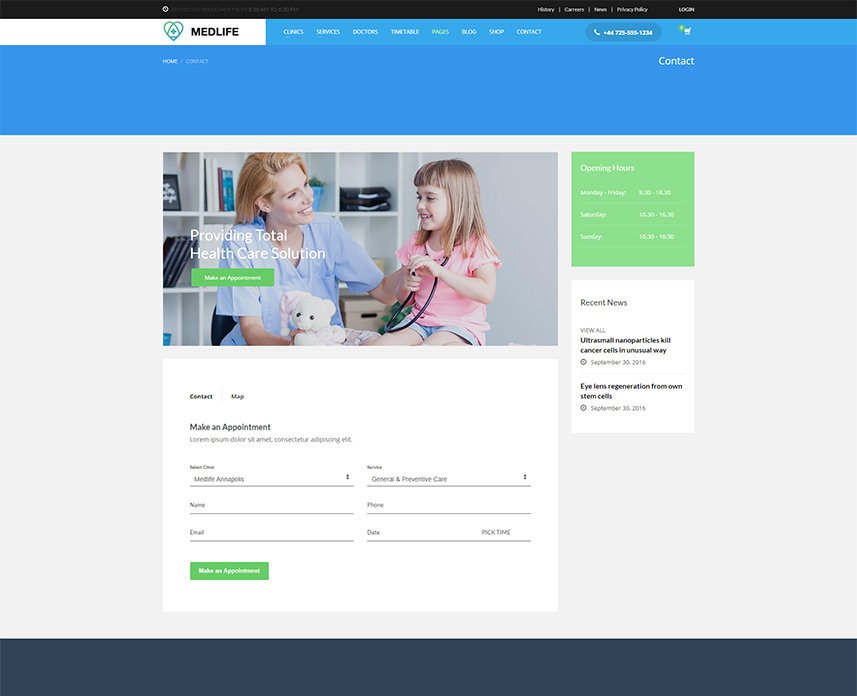 The second one is without sub-header and instead has a slideshow with a beautiful picture and big title. The content is placed a little bit over the slideshow, for a beautiful design layout.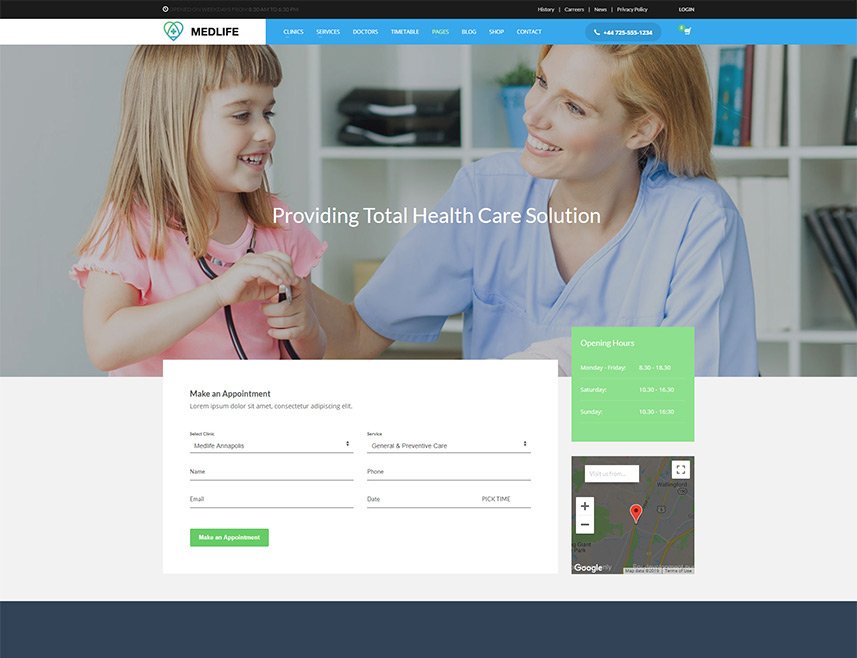 MailChimp provides a newsletter ideal for health clinics clients to get contacted. Kallyas Health & Medical WordPress Theme offers many social media exposure and buttons to set.
You can also start a blog and share all sorts of tips and recommendations which will greatly benefit the end-user.
The reason behind it is that Medical WordPress theme is a perfect choice for personal doctors. By employing the amazing Medical WordPress theme, you get a chance to present all your services, doctors and other information on the web in the best possible light.
You don't need to take everything for good, convince yourself here by viewing the live demo. Have fun building your WordPress website with this amazing Medical WordPress Theme!
Enjoy it!
Build your website with style!
Get access to this awesome drag & drop visual website builder, pre-made websites, thousands of features, video tutorials, premium support and many more.