If you struggle finding your everyday source of inspiration for UX / UI, Graphic Design or Illustrations you came to the right place. There are lots of communities that can get your inspired like Dribbble, Behance, Pinterest, DeviantArt. But which one is the best?
Instagram has the biggest engagement rate today from all the social networks. If you want to engage with fellow UX UI designers more, besides getting inspired, then you should probably consider using a popular social network like Instagram, where people are more active, and can offer feedback faster.
So without further ado here's what I think are some of the best UX / UI design communities or influencers you can follow on Instagram.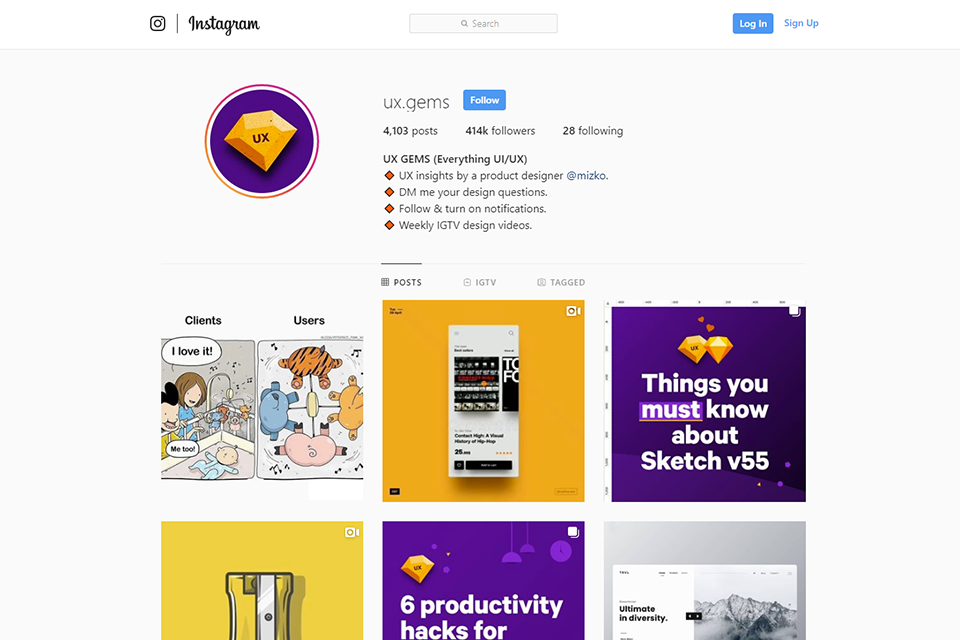 Former GraphicDesignUI @ux.gems is one of the top leading UX UI communities out there and personally my favorite one. Moderated by @Mizko a UX Designer from Sydney Australia with a strong background in product strategy and design. Besides inspiring people with daily UI's @ux.gems will feed you also with helpful knowledge and insights from his professional background as a UX Designer. I think you will find this account very useful you have a lot to learn from here.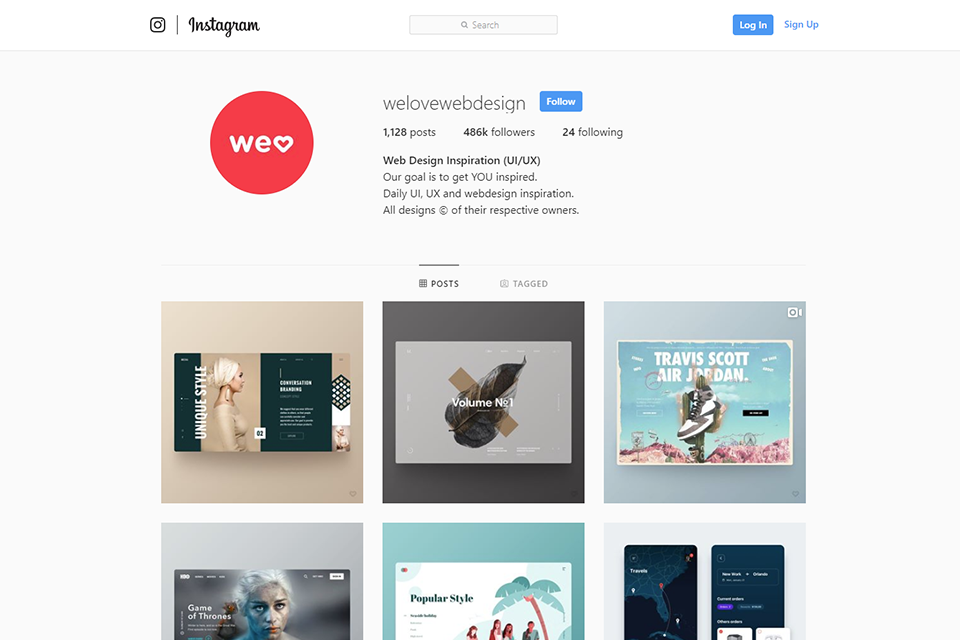 @Welovewebdesign is curated by Dennis Snellenberg @dennis.design from Rotterdam which believes that inspiration is an important aspect of every design process. During one of his internships in the search for inspiration, Dennis started it himself with @welovewebdesign. He provides only the best User Interface Designs shared in an unique way. If you have an UI you can even submit it trough his form in order to be shared with the rest of the community.
Dave from @uidesignpatterns which recently started also @designershumor community is a must follow UX UI Instagram account. He shares mainly UI's from Dribbble and funny memes from his @designershoumor community. I had some serious laughs from his second account that he manages.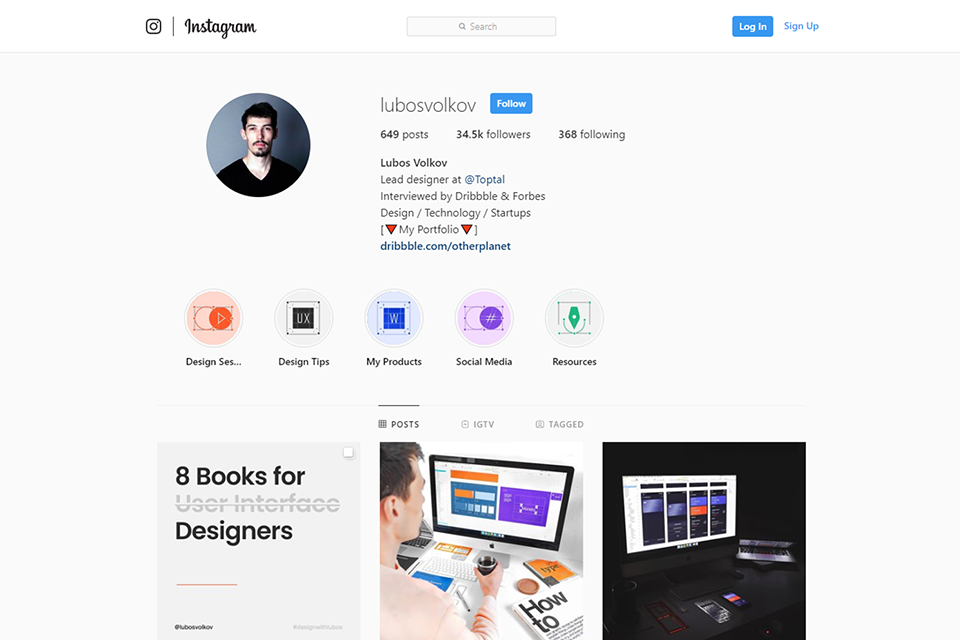 Is a lead UX UI designer at Toptal with 8+ years experience in the industry Sharing amazing UI's and UX tips.
05. @dimaphew ( Dima Tkachev )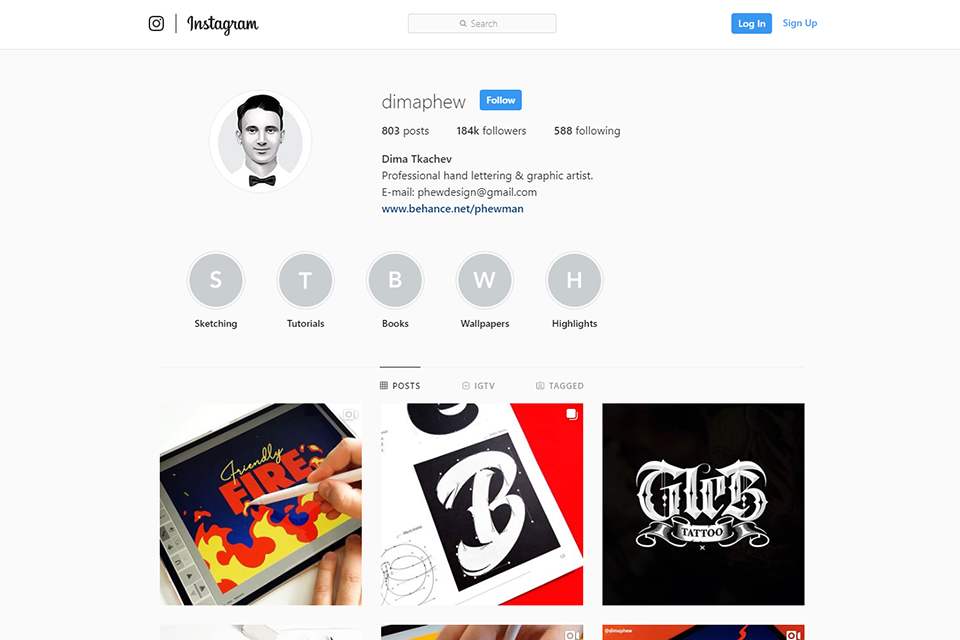 If you want a bit of diversity you can follow @dimaphew Professional hand lettering & graphic artist. He makes some amazing animations when combining his iPad Pro with rough animator, sometimes he makes illustrations with Procreate app @procreate. Just take a look at this work.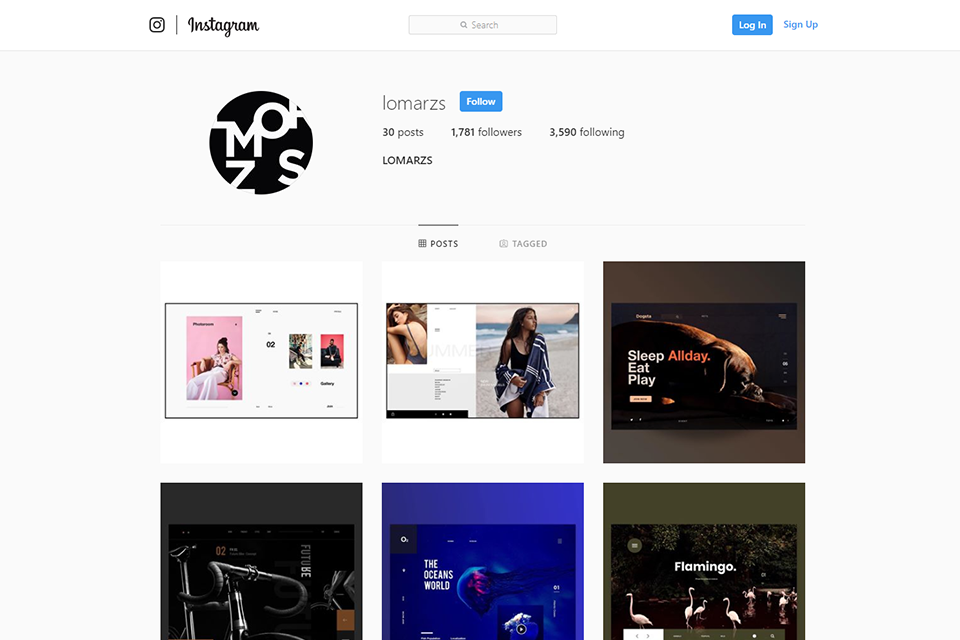 Lomarzs, UI | UX designer from Eger, Hungary showcases his clean and minimalist UI work. I'm sure you have seen at least one of his works.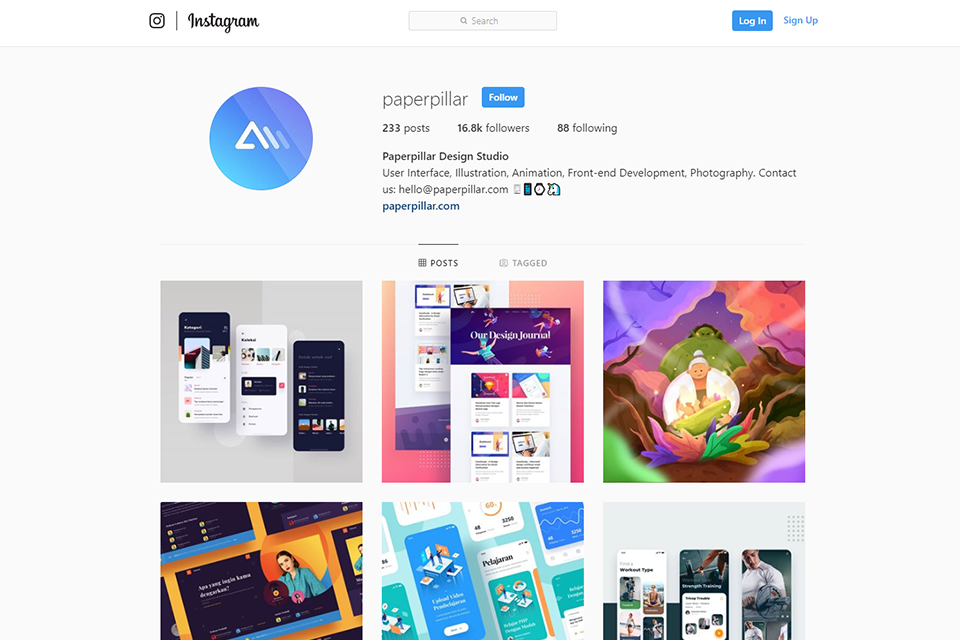 Paperpillar Design Studio is a team of passionate UX UI designers and developers from Yogyakarta that combines beautiful illustrations with User interfaces. You will also find works from user interfaces, illustrations, animations, front-end development up to photography.
08. @the.dsgnr ( Dorjan Vulaj )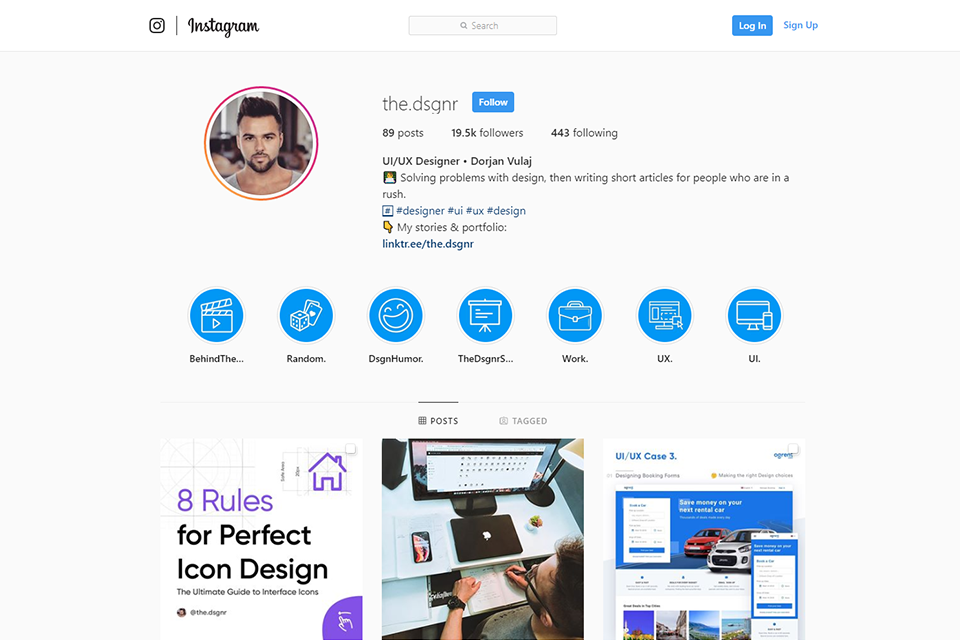 Curated content by a Senior UI / UX Designer from Shkoder, Albania. Dorjan is solving problems with design and on his spare time he writes short UI UX articles for people in a rush. I'm sure you will find his account really enjoyable.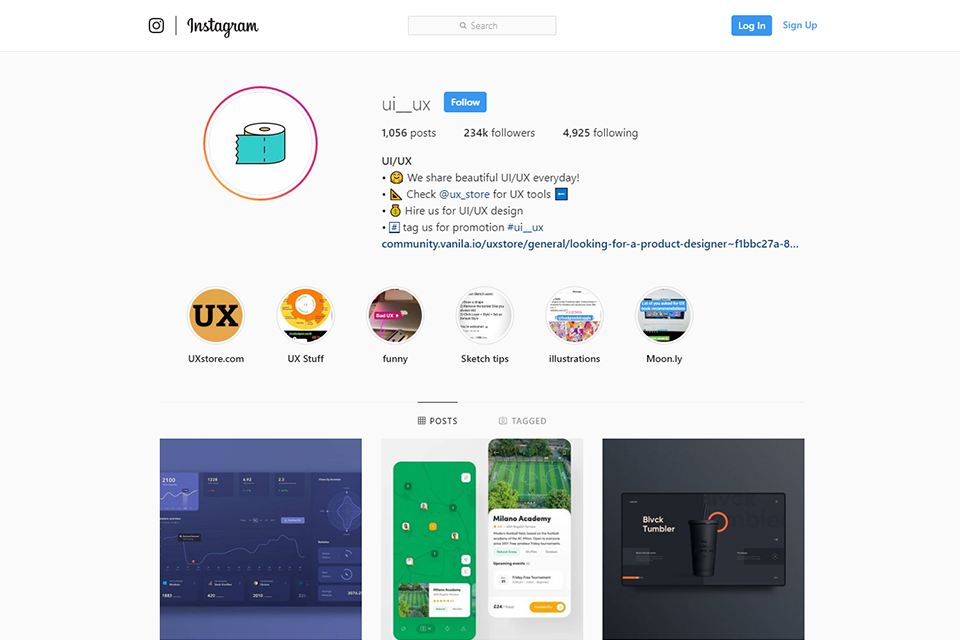 Delivers daily useful tips and UI UX design lessons. Definitely you should check this one out.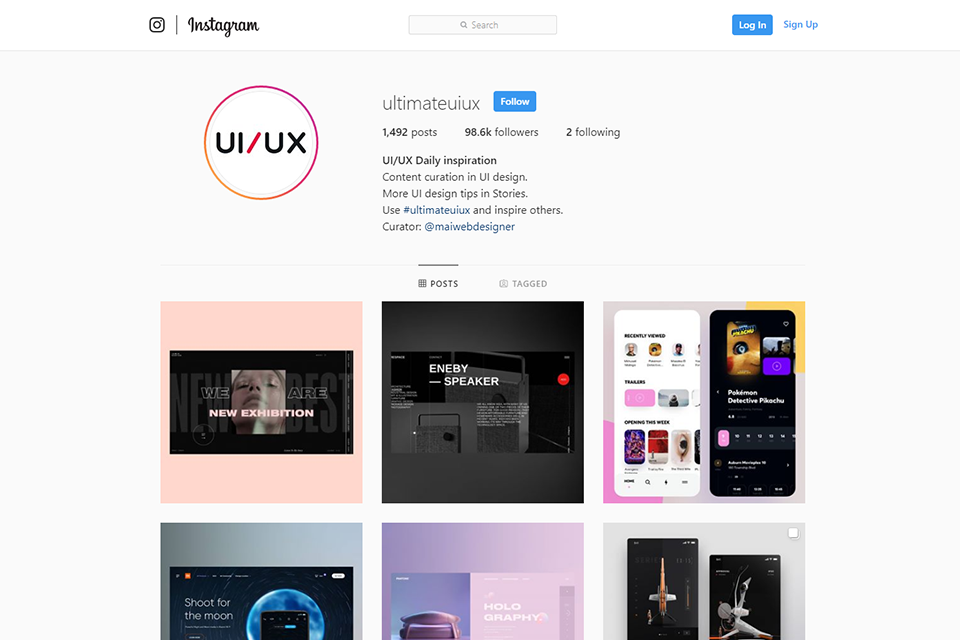 As the name says this Instagram UX UI account Curated by Mary a UX UI Designer from Colombia shares the ultimate UI UX projects. If you want your work to be seen here you can simply tag your projects with #ultimateuiux.

Connect with us on social media.