Can't decide which WordPress theme to use for your website? A fair comparison between Kallyas, Avada and Enfold, three giants on the market today.
Kallyas, Avada and Enfold have been released 7 years ago on Envato marketplace, and they set the new standard as to what multipurpose WordPress theme should offer. Themeforest is home to a bustling community of web designers and developers and is the biggest marketplace of its kind.
Meet the rivals!
In this review, I would like to show you how Kallyas compares to Avada and Enfold by following aspects:
Import system
Theme options
Pre-made demos
Design
Page builder
Elements
Plugins
Support
Reviews
Pricing
1. Import System
Installing a WordPress theme is easy. With just one click, you can replicate a demo content to your website, it's simple right?
All three Kallyas, Avada and Enfold have implemented import system that works flawlessly. Just as Avada has extra options to choose from what you want to import from a demo, such as widgets, pages, posts, portfolio, images and uninstall possibility.
Kallyas Avada Enfold
2. Theme options
The cornerstone of a WordPress theme is the possibility to customize anything you need, from logo and header to footer. Reviewed themes have included well-structured options, that gives you the possibility to make a lot of changes for your project.
Avada and Enfold have all the theme options in the back-end as well, for example: footer, layout, typography, colors, portfolio and many more. While Kallyas does not, many options can be found in front-end visual editor. Also, Kallyas has a huge amount of options to customize your site.
Kallyas is often praised for its design and the abundance of customization options.
Kallyas Avada Enfold
3. Pre-made demos
First of all, you can choose from Kallyas available library, a demo that suits your needs to create the project in no time.
Kallyas is packed with 65 pre-made complete website demos. Beautifully designed and with unique custom elements such as hero scenes, slideshows, unlimited sub-headers and a huge variety of sliders. A new update is released almost every month that contains a modern and complete website demo.
Avada comes packed with 48 pre-built demo sites to choose from, covering galerie, driving, barber shop, spa – to name just a few. Most of them are minimalist and with basic elements.
Moving onto Enfold, they have included only 38 website demos to let you choose the niche.
Kallyas Avada Enfold
4. Design
All three Kallyas, Avada and Enfold have the main demos (comes by default) and second demos that are pre-made especially for niches.
Kallyas main design was facelifted in 2016, with fresh, unique elements and a new visual page builder that I will talk in the next chapter. Enfold makes a design refresh too in 2017 for the main demo.
Sadly Avada has not changed the main demo since it was released, over 7 years ago. In that period Avada, it was modern, but now it's almost outdated so we are waiting for the new up-to-date design.
Kallyas Avada Enfold
5. Page Builder
What is the visual page builder? It is a revolutionary interface, embedded into the frontend of your WordPress website, in which you can add, remove or edit any type of content, all visually, all live, without hitting that Refresh button.
Kallyas is powered by the Zion Builder, a front-end visual page builder. Avada and Enfold have a back-end page builder. It will take significantly longer to build pages with a back-end page builder, because there is no visual representation of what you are doing.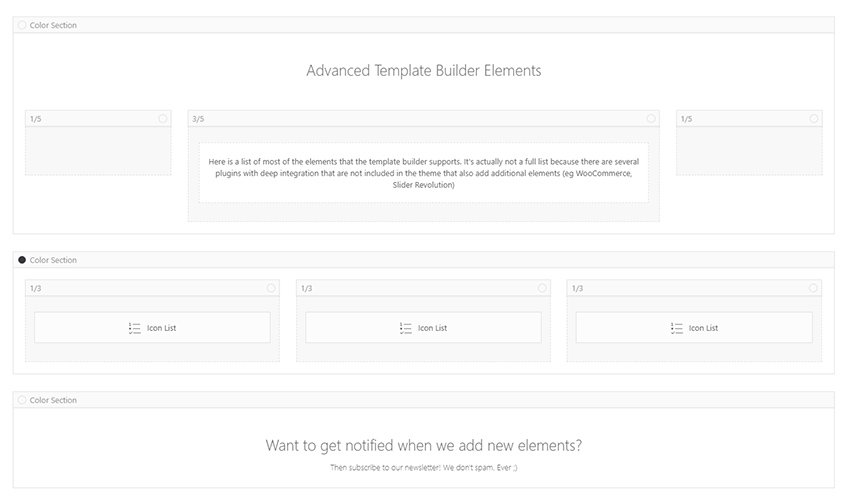 Without theme demos, I think beginners may find it difficult to get the most out of Avada and Enfold.
With Kallyas and Zion Builder, you won't need to hire experts or learn coding skills, so web design becomes fun. Talking about technology right?!
Kallyas Avada Enfold
6. Elements
Kallyas theme is supplied with 150 custom elements and over 300 styles, most of them with a unique design and functionality. Such as Slideshow sections, Event Countdown, Weather box, Statistics, Steps box, Screenshot box, Circular catalog, Big social blocks and this is just a few of them.
Few in Avada and Enfold themes, come with only 60 and also 47 basic elements.
Avada WordPress theme comes with elements such as Alerts, Gallery, Modal, Layer Slider, Lightbox, Popover, Tabs and so on.
Enfold theme it's packed with elements such as Accordion and Toggles, Portfolio Grid, Easy Slider, Headline rotator, Notifications etc.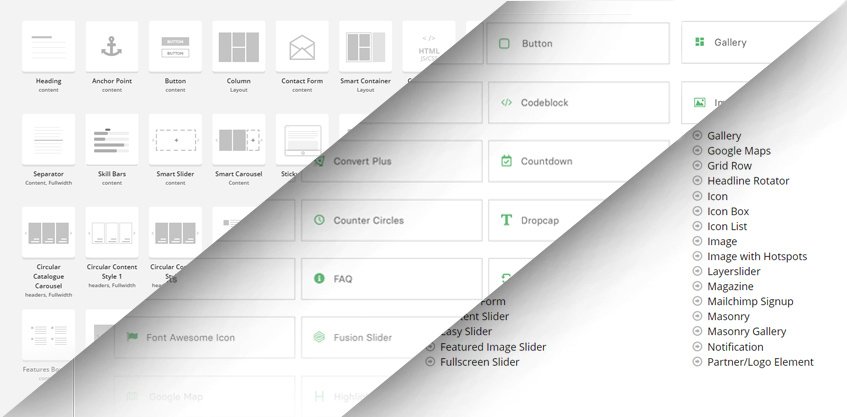 Kallyas Avada Enfold
7. Plugins
Kallyas, Avada and Enfold have good compatibility with most of the popular plugins.
In Kallyas you can choose and install 35 plugins and addons directly from the dashboard. Most of them are developed by Hogash and also premium licensed ones, such as Revolution Slider, Cute Slider, Booking Calendar, and Paid Membership Pro.
Do not forget about WooCommerce, that is currently the most popular online shopping platform and Kallyas is strongly integrated with it including its sleek and gorgeous built-in styles.
Let's switch our attention to Avada.
Avada comes with something cool, a plugin called "WHITE LABEL BRANDING", that allows you to rebrand your website, removing the Avada logo from all over the places. With it, you can adjust most of the dashboard's appearance before handing the site over to a client.
When it comes to Enfold, unfortunately, doesn't have included third party plugins into the theme, if you need a popular plugin such as Revolution Slider you have to buy it separately.
Kallyas Avada Enfold
8. Support
Customer support is one of the most important feature for a WordPress theme. Upon purchasing a theme license, Envato will include 6 months of support. Once this expires, you will have the possibility to renewing.
Kallyas offers full online written documentation with more than 100 articles and 150 video tutorials. Avada and Enfold also have online written documentation and video tutorials.
Kallyas Avada Enfold
9. Reviews
Kallyas have a great rating note 4.70/5.00 average based on ca. 3,000 reviews, Avada has 4.77 average based on ca. 20,000, and Enfold has 4.82 average based on ca. 9,000 reviews.
Most of the clients choose a WordPress theme from sincere opinions of the people, and it's impossible as a WordPress theme to have 5 stars. It's just normal to have dislikes, one-star reviews and so on.
Kallyas, Avada and Enfold themes are great for anyone who wants to try WordPress website building or want to get creative with their site.
Kallyas Avada Enfold
10. Pricing
With so many features, you may expect the Kallyas theme at an extra rate. But no, the price for a lifetime license per domain, beautiful demos, flexibility, and a powerful visual page builder it's just for only $69. I'd argue that's worth every penny!
Avada and Enfold are available on Themeforest at the price of $60 and also $59 and it does go on sale from time to time.
Kallyas Avada Enfold
Final thoughts on Kallyas vs Avada vs Enfold
As I mentioned at the beginning, Kallyas, Avada and Enfold WordPress themes are powerful with great options, and you certainly won't go wrong with any of them.
Kallyas is, undoubtedly, one of the most advanced design toolbox for WordPress with nearly endless customization possibilities and a vast selection of pre-made design variations.
Avada and Enfold have no apparent disadvantages: each of them is just better than the other in its own way, but both are great and ready to power a website.
At this point, you should have a pretty good idea of how Kallyas, Avada or Enfold help you build and customize your WordPress website.

Connect with us on social media.
Build your website with style!
Get access to this awesome drag & drop visual website builder, pre-made websites, thousands of features, video tutorials, premium support and many more.